Ask Mr. Pedometer and Friends…
April 3, 2019
Q: Mr. Pedometer, you have encouraged us to stay well, but shouldn't we also be building healthy communities where we live as well?        
A:  Good question! The first week in April happens to be National Public Health Week,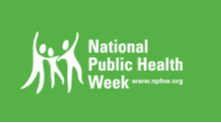 with different topics each day. Their first topic is "Healthy Communities," and here's what the American Public Health Association had to say:
"Happy National Public Health Week!
Each day of National Public Health Week zeros in on a different public health topic, and today's is "Healthy Communities." It's the perfect opportunity to kick off conversations around this year's National Public Health Week's theme of "Creating the Healthiest Nation: For science. For action. For health."
"By now, the research is crystal clear: People's health, longevity and well-being are connected to their communities — the places we live, learn, work, worship, and play. Whether it's healthy housing, clean drinking water, or safe places for kids to play, many opportunities to improve health happen far outside the doctor's office. In fact, some of the greatest opportunities to create the healthiest nation start with smart policies that prioritize people's health.
"On this first day of NPHW [or later in the week], call on decision-makers to consider health in all policies, and ask your members of Congress to prioritize public health funding. Help us raise awareness of the critical role of public health systems in keeping us safe from preventable disease and injury. And don't forget: We all have a role in creating healthier communities. Use this week to think about ways you can partner with family, friends and co-workers to make a positive difference. For more on today's [April 1] NPHW theme and ways to take action, read our fact sheet and help spread the word on social media."
We clicked on the link, and the following excerpt reminded us of how fortunate we are in where we live:
"Smart local policies that prioritize health can make a difference. For instance, research shows that well-maintained sidewalks can encourage physical activity and that safe biking networks lead to more cycling and fewer injuries among bicyclists. Rates of preventable deaths — such as deaths from heart disease, diabetes and cancer — typically go down in communities where local public health spending goes up. Other research finds that deaths from cardiovascular disease, diabetes and the flu decline significantly in communities that expand their networks in support of population health goals. "
In the Tri-Valley area, visionary city leaders have been building a healthy community by provided us with parks, trails, and safe sidewalks that encourage us to get outside and enjoy walking. Take advantages of these benefits, and encourage your friends and family members to do so also. Let's support a healthy community!
If you would like to join a walking group and start enjoying your community or start your own; see the "Start Your Own Walking Group" section of the World Walk To Wellness Website.